A report from San Marcos Atexquilapan, Veracruz, after three young men from the town were among over 50 migrants who died of heat exposure while trapped in the back of a truck in San Antonio, Texas.
Text and photos by Iván Sánchez, originally published July 2, 2022 by La Marea.
NAOLINCO, VERACRUZ— When you leave the town of San Marcos Atexquilapan, in the municipality of Naolinco, the fog is the last thing to say goodbye. Slowly, the people, the houses, the church and everything else turns into a foggy, uncertain future.
That's how Misael, Yovani and Jair left the town, risking their lives for what everyone thought would be a better future.
They left for the US to be able to build a new fence around the edges of their yard, or to be able to buy a car to drive to soccer games.
Misael lost his life (died, to say it dryly), together with more than 50 other migrants, in the back of a truck in San Antonio, Texas. His death was confirmed by Carlos Escalante Igual, the Director of Attention to Migrants in the government of Veracruz state. 
His cousins Yovani and Jair died in the same place, authorities confirmed two days later that they were also on the long list of people who died in the truck. Everyone in San Marcos feared that they had died there, but still, as their mother repeated over and over again, almost like a mantra: "faith is the last thing that's lost."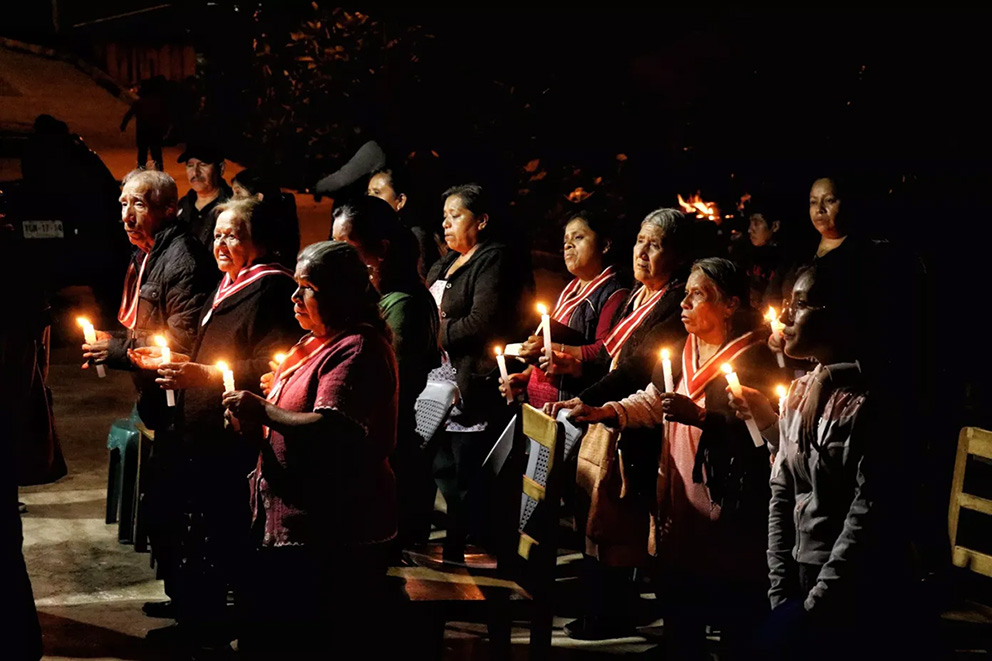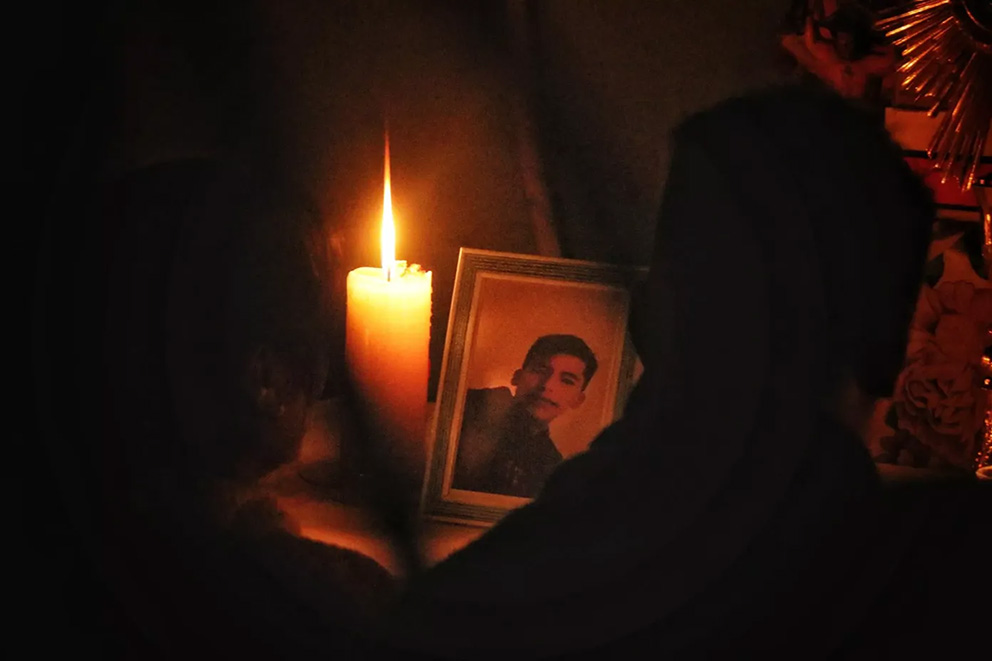 From San Marcos to San Antonio
The three young men left, heading north, planning to cross the US border with the goal of arriving in San Antonio, where family members who had gone beforehand were waiting for them.
The three left on the heels of 20 other youth from their community that same week. Dozens more have migrated north over the past years.
The three young men left together, which was why Yolanda was afraid her sons had met the same fate as Misael. She asked authorities to get her a passport so that she could go look for them herself.
"They need to help us with passports so we can go look for them, see what's happening with them, many days have gone by and we haven't heard from them," she said.
The devil of poverty is hidden in San Marcos Atexquilapan, which is nestled between mountains and clouds with an almost celestial scenery. That which is lacking is juggled by calloused hands that have made so many shoes, because that's what almost everybody in San Marcos does: they're shoemakers.
The trade has been passed from generation to generation. Misael inherited it from his parents and his grandfather. He also inherited a passion for soccer, which he shared with his cousins and nearly the entire Olivares family.
In this town there are two religions, catholicism and soccer, both enthusiastically practiced on an almost daily basis. One, more official than the other.
His grandfather Balbino posed proudly with a photo in which his three grandsons stood together with other youth wearing Chivas jerseys. The man, who doesn't look a day over 50, stands between a trophy and an altar dedicated to asking for the safe return for Yovani and Jair, and for Misael's soul.
As the bells ring, he talks about how his grandsons made the decision to go north in under 15 days. He talks about how one of them didn't go because his mother wouldn't let him and so, out of pure luck, there's one less home in mourning. He says the stories of success in the US are tempting for the youth of the town, which is why little by little they have left the region.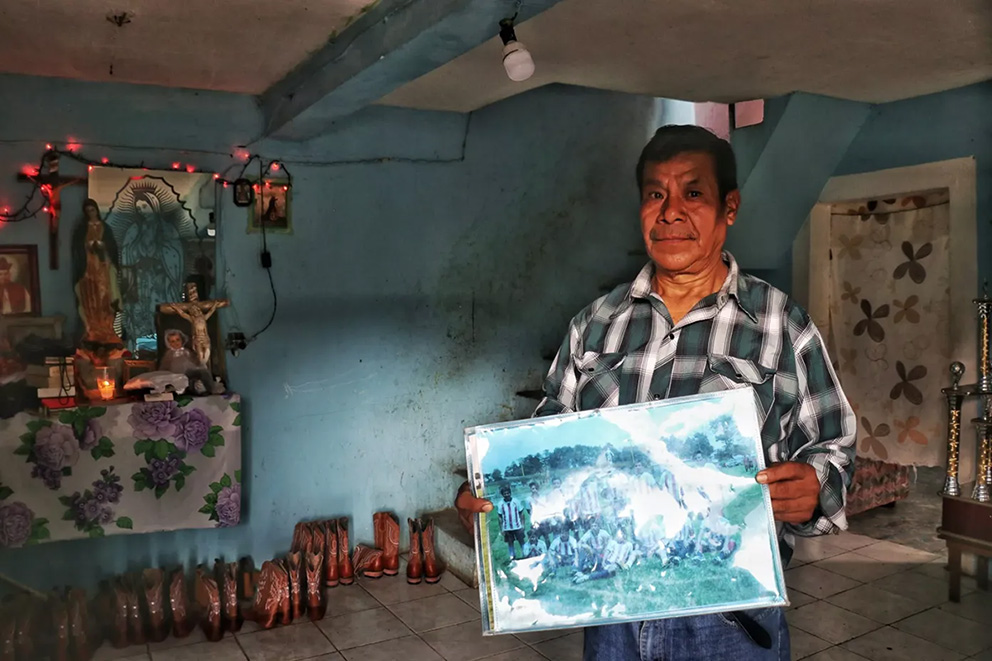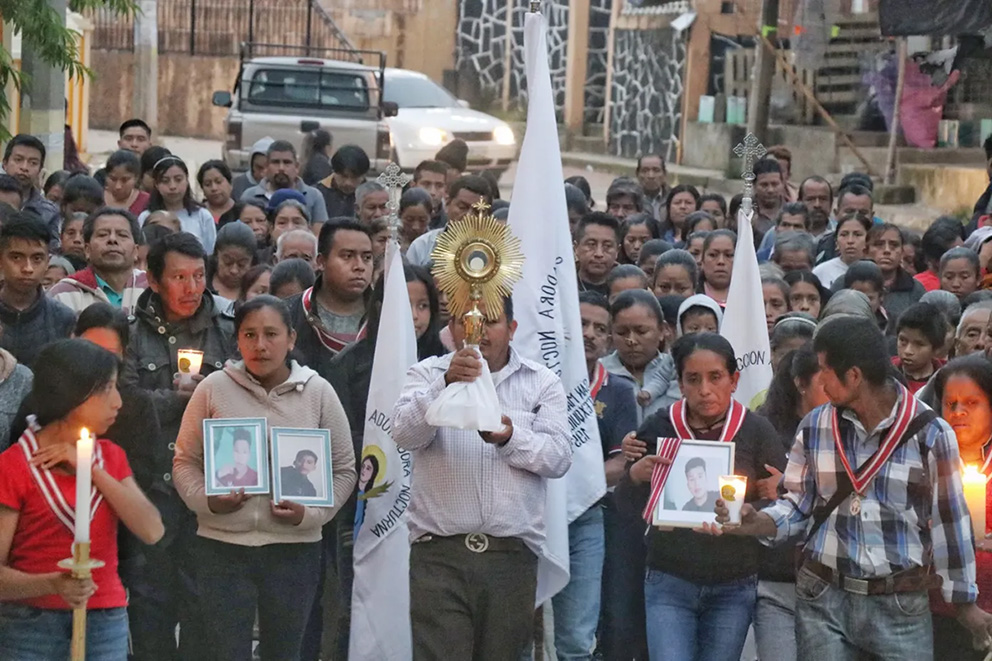 No opportunities for young people
Antonio Ruiz, uncle of the three young men, is sure if there were more opportunities, his nephews and others like them wouldn't leave the place where they were born.
But when you make shoes for a living the pay is low, there's few opportunities, and your body deteriorates from long hours hunched over the sewing machine or standing up cutting leather shapes.
"In these towns we are marginalized, we hear about [government] support on the news, but they'll never arrive here, that's why the youth have to migrate."
Misael died in the truck, but he was killed by the Covid-19 pandemic. When schools closed because of health protocols he couldn't keep studying. His house had no internet to take classes online, and he decided to stop studying.
His workdays, which he used to combine with school, became longer and the pay even worse. The sale of shoes in Naolinco dropped off precipitously because of the pandemic.
One of the neighbors of the Olivares family said that during many years, people left San Marcos Atexquilapan to try their luck in the US, until one of the townspeople died in the desert. Since then, migration has dropped off in the region.
But around two years ago, it all started again. First a few left to try and cross as undocumented migrants. They made it to the US city, and got lucky, moneywise.
Their story circulated and groups of young men who were almost children started to leave again, little by little, walking the cobblestone streets that connect to the highway to Xalapa. They all wanted the same thing: to earn dollars.
Buying land and building a house is the dream of many in San Marcos Atexquilapan. They all seem to want the same thing, to go away for a few years and to come back to the town of their birth triumphant.
Others have dreams that go a little farther. They want to own their own business, maybe a shoemaking workshop named after them, where they can stop being wage laborers.
Those who stay in San Marcos Atexquilapan also dream. Some of them dream as they push a cart full of cowboy boots, others dream as they feed chickens and pigs. Some of them dream while kicking a ball, or they dream as they make soles for shoes.
But Hermelinda doesn't dream anymore. After she learned of the truck in San Antonio she stopped sleeping, staying awake for days waiting for news from her son, Misael. The news she received was what she feared most: he died.
Now she cries. Her family and friends hide her from the journalists' cameras that have arrived to report the story. They don't want her to look destroyed. Yolanda doesn't want to talk with journalists either, she said just a few words, asking for an end to uncertainty and that she be told the whereabouts of Yovani and Jair.
When people depart there are always prayers, it's normal in a town where 99 percent of the residents are Catholics, and the other one percent as well, they're the "bad ones," the ones who rarely go to mass.
The houses smell like tanned leather and inside there are religious images. Everyone knows the songs, the liturgies, the prayers that are said in the daily mass at 7pm.
Over the last days the mass has grown longer and it's moved to the Olivares house, a blue, two story building with a painting of the Virgin of Guadalupe in front. The black tarp in the middle of the street blocks the sun and rain as everyone gathers to pray, as they have done since they learned of the truck full of dead migrants.
The day before Misael's death was confirmed, the saints were taken to his house to ask for his return, and that of his cousins. There was still hope that he was alive, but as if he was predicting, and out of a habit formed from doing something a thousand times, the leader of the prayers asked for Misael's eternal rest, just like during a funeral.
In San Marcos Atexquilapan the people pray, they make shoes, they play football, they pray, they feed the chickens, they walk or they ride their bikes, and they pray.
They pray for Misael's soul and for the return of Yovani and Jair. They prey among the clouds.
… And lead us not into temptation, but deliver us from evil.
This report was originally published by La Marea, which is part of the Media Alliance organized by Red de Periodistas de a Pie. You can read the original here.
Click here to sign up for Pie de Página's bi-weekly English newsletter.