On Thursday, October 12 the National Search Brigade for Disappeared Persons made its first recovery of human remains in Yecapixtla, Morelos. The Brigade has also carried out sensitivity training with municipal police from Jojutla, Cuautla, and Huitzilac. In addition, they signed agreements with authorities to receive support in the form of tools and food for the searches
Text by Heriberto Paredes y Rodrigo Caballero, originally published October 15, 2021.
Photos by Heriberto Paredes.
Translated by Elysse DaVega for Pie de Página in English.
Note: By the time the National Search Brigade for Disappeared Persons concluded on October 24, searchers had recovered human remains from 10 different sites in various mass graves.
MORELOS– The sixth National Search Brigade for Disappeared Persons (BNBPD) finished its fifth workday in Morelos with a recovery. After several hours of searching in a ravine in Yecapixtla known as la Barranca, search group members found a bone fragment and proceeded to place it under necessary protocol.
The fragment was found at a part of the river that runs through the municipality and flows out into the Amacuzac area. They first discovered a container holding the human remains, and according to anonymous reports there is a second container with more remains.
Wendy Guadalupe Ruiz Ramirez, the on-site state search commissioner, confirmed that the request for support to carry out the search was granted. Along with family members, the National Guard, the Army, the state attorney's office, the Attorney General, and members of both the State and National Search Commissions were present.
«We're carrying out an inter-institutional task, but working hand in hand with the families. We still need to return with a diving team to search in a deep well, according to the information we've gotten from those that have gone down the river,» the commissioner said.
«The past few days' searches have been successful, not all of the work has been in vain. In the end, we have one less lonely family. Our sister Graciela has arrived, and now she's searching with us,» said Anglican priest Arturo Carrasco, a fellow searcher supporting the Brigade.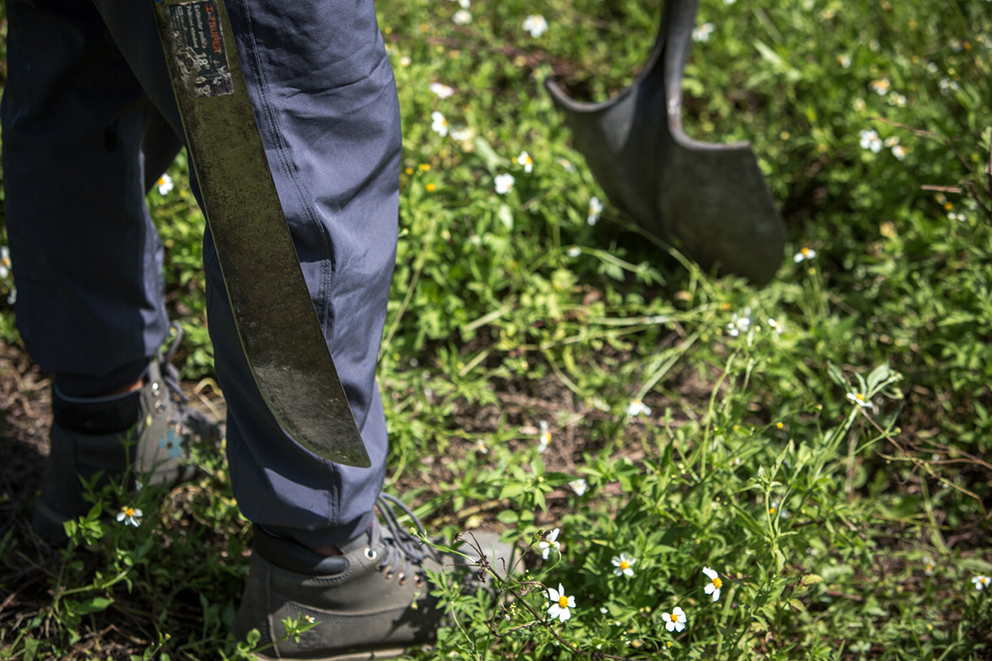 Finding yourself through searching
Graciela Gutiérrez Montes had just had two sleepless nights. She said that she was excited– something she hasn't felt in a long time. She wants to go out and look for her son, as she's been doing for the last 12 years. The only difference today is that she's not alone anymore.
What kept her up the first night was the uncertainty; she had just heard on TV that a team of mothers were going to the state of Morelos to look for their missing loved ones. She felt that this was the sign that she had been waiting for for years as she followed clues about her son's whereabouts all over the country.
Graciela Gutiérrez learned of tragedies in Michoacán, Guanajuato, Nayarit, Guerrero, and Jalisco from on the ground. She even got as far as San Fernando in Tamaulipas in 2010, believing that her son could be one of the 72 migrants killed by drug traffickers. She solemnly learned about the Tanhuato and Ayotzinapa massacres, the most violent events in México's recent history.
«I'm showing up, I've got to go! I've gone much further,» she thought to herself as she tried to explain to her daughter that she was, for the millionth time, going out to look for Juan Manuel Chávez Gutiérrez. Her son was 23-years-old when he was disappeared in 2009 after leaving his home in State of Mexico, a small town just 20 minutes from Chalco.
«I'll come with you, just don't bring any money,» her daughter said, tired of the manipulation: the cleanses, the shamans, the witch doctors, ministerial police, and agents from the Public Ministry that had made false promises to the family for years that Juan Manuel would come home in exchange for a sum of money.
The woman left with only enough money for the bus; she rode for hours until she arrived at the Attorney General's office. There, they informed her that she should go to the search team's headquarters. The other mothers had left for the fields hours before, so Graciela waited patiently at the door.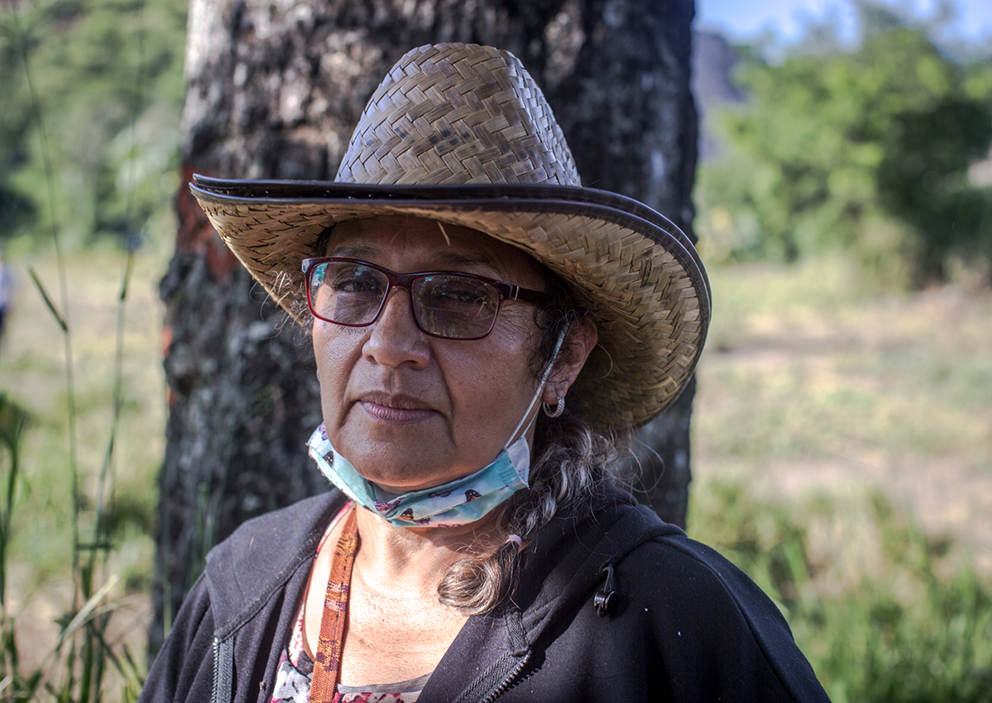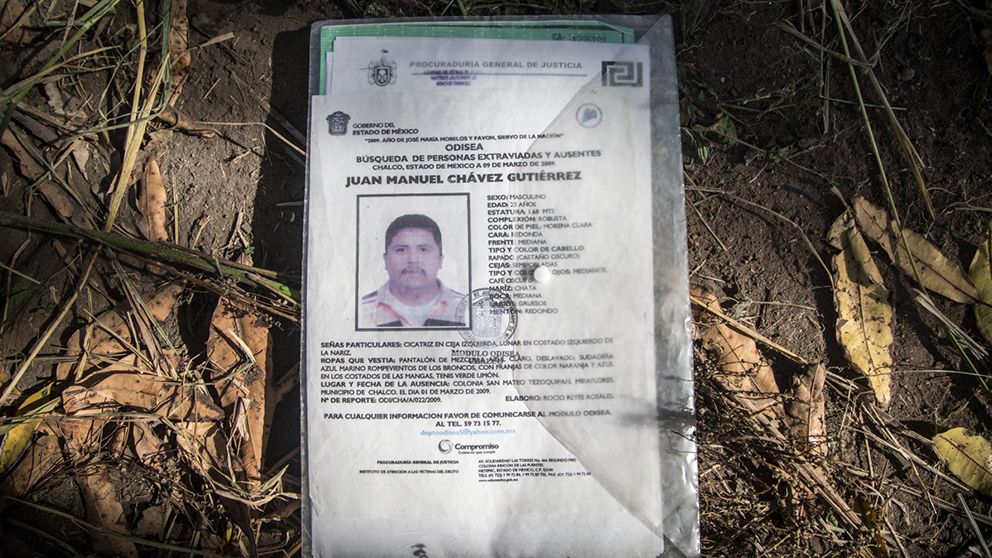 Hours later, one of the Brigade's drivers returned to look for the hats belonging to the searching families. When the truck arrived at the entrance, the guards told doña Chelito and her daughter that the truck was for the search team. The driver never found the hats, but he did return with the two women to an area above the highway near Yautepec, in the Tierra Grande de Morelos region.
«When I saw everyone organized, searching, in high spirits, I was very happy, and I knew that I was going to search with them. I feel like we're going to find something. I'm glad that there's somebody out there who cares,» said doña Chelito, as she prefers to be called, because Graciela sounds too serious to her.
It's also what her son Juan Manuel called her, when he was in a good mood and felt like playing violin and singing «En tu pelo» by Javier Solís. Today, those lyrics remind her of her son: «I'm dying for your eyes and your mouth, for your arms and your skin, for your tears and your voice.»
This is what doña Chelito thought about as she pretended to sleep at the BNBPD headquarters. She thought about her husband, Alejo Chávez García, who died a few years ago of kidney failure and blindness, triggered by the loss of his son.
She thought about her husband's last wish, which was to be buried with all of his son's documents, photos, and clothes. Alejo wanted his wife to stop searching and bury the past with him so that she could move on and take care of her other two children and eight grandchildren, three of them Juan Manuel's.
But Graciela couldn't keep her promise. She clung to the documents in the same way she clung to the search team, and decided to continue looking for her son despite the hardships. As the sun began to rise, she truly felt it was a new day. When her alarm went off, doña Chelito knew that it was time to get back to searching until she found her son.
As the first week comes to a close, the BNBPD has simultaneously carried out several actions aside from the field searches. For example, the families have been searching in penitentiaries since Monday, Oct. 11, and have also begun to look through records at the Forensic Medical Service, which is regarded within the Brigade as a core part of these searches.
On October 12th, a group of families and those supporting them visited the Technological and Agricultural High School #154 in Huitzilac, a municipality in the region of Morelos that borders Mexico City. During the visit, several women shared stories of the search for their family members. Blanca Ramírez, who is from the state of Colima, searched for her brother for many years and eventually found him. Her experience serves as a pillar that keeps her together with the other members of the collective. «I found my brother, but I'm still missing 90,000 more treasures.»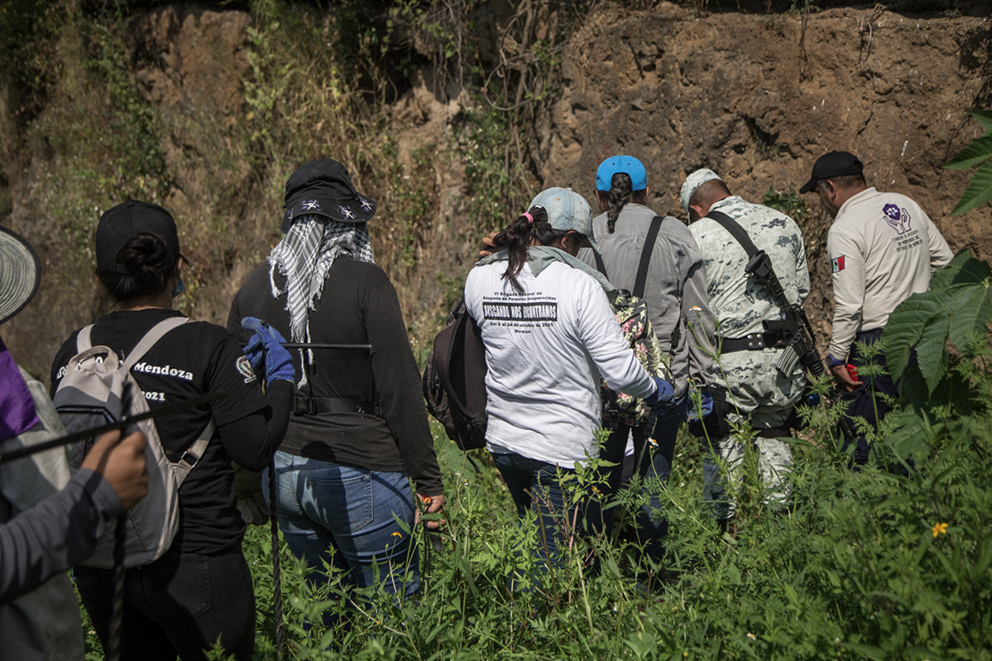 Jaqueline Palmeros, mother of Monserrat Uribe Palmeros, shared with the high school students what happened on July 24, 2020. «My daughter disappeared in the town of Iztapalapa. There have been a lot of inconsistencies in the investigation, and if we don't lay down pressure, if we don't protest, this will keep happening,» she said. The students listened intently and applauded Jaqui's words with empathy. Jaqui is her nickname within the search group.
The Brigade has also carried out sensitivity training sessions with authorities, particularly with municipal police from Jojutla, Cuautla, and Huitzilac. As a result of this work, they signed an agreement with municipal authorities on October 12th stating that authorities would support search processes, and that this would be reflected through concrete acts such as more sensitivity training with police, creating search groups wherein specialized members of the State Search Commission and the Public Ministry participate, and supporting the searches through donations of resources, fuel, food, and more.
The field searches in Morelos have been carried out on lands where there are indications of clandestine burials. The searchers have marked areas that may need to be excavated with a backhoe. The families will keep searching day after day, anywhere and under any conditions, because they're moved not only by pain, but most of all by love. This is what sets them apart.
Heriberto Paredes is a Mexico-based photographer and independent journalist who has connections in Guatemala, El Salvador, Honduras, Costa Rica, Cuba, Brazil, Haiti and the US.
Click here to join Pie de Página's bi-weekly English newsletter.