Verónica Maldonado does political theater for children, a kind of theater that brings people close to difficult topics: child sexual abuse, narco-violence, and disappearance. She does so convinced that it is possible to create happy childhoods and peace through theater. The playwright recently worked with the sons and daughters of people who are disappeared in Coatzacoalcos.
Text: José Ignacio De Alba, originally published June 2, 2021.
Photos: María Ruiz
Translation: Dawn Marie Paley.
VERACRUZ/MEXICO CITY–Verónica Maldonado, trained as a playwright, walks along a lush green field. It's almost idyllic, but it masks a tragedy. Under the leaves and the bushes, under a pool of water, could be the body of a child who was killed and buried here.
The woman, 58, is attentive to the jungle landscape of Coatzacoalcos, looking for signs that could help her find the place where the child's body is located. It's a difficult task, heat and insects make it even worse. She uses a metal rod to search, just as they told her to: when there's a strange pattern on the ground she digs in the metal and pulls it out, with the hope that her tool smells of meat.
Verónica and a group of artists are accompanying family members of the disappeared as they search for Carlitos, who is 12 years old, in a ranch near the oil producing region in the south of Veracruz. It's a new experience for the playwright, one very different from what she has done before.
She pauses to write notes in her notebook. It's paradoxical: everything around the disappearance will help her write a theater piece for children.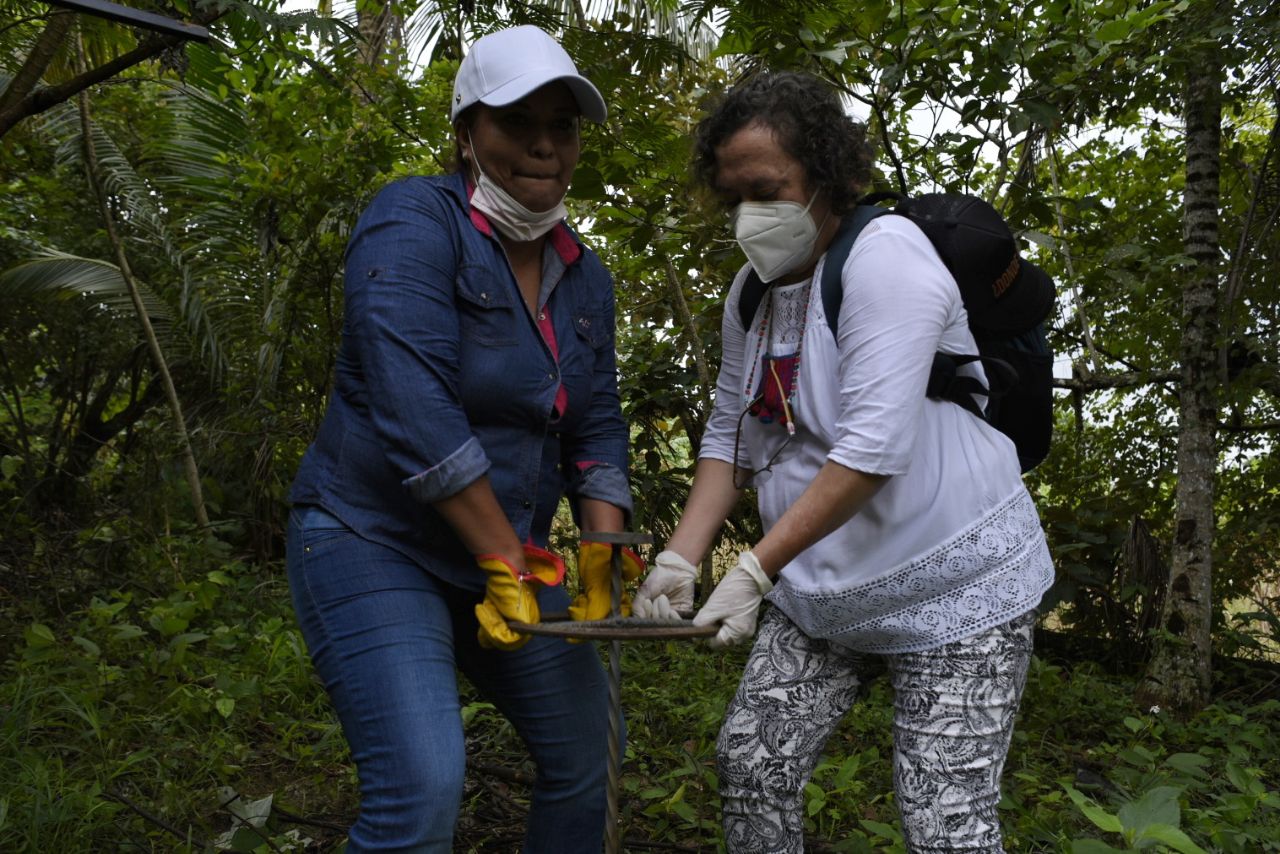 I. The children
In addition to being a playwright, Verónica is an actress and a teacher. She studied literature and theater in the National Autonomous University of México, and over her long career, which has centered on children, she has won various awards.
She does theater for children. But not any kind of theater. What she does is political theater for children.
In a workshop between artists and journalists organized by Pie de Página at the end of 2020, she shared some of her impressions about the creative process she shared with the sons and daughters of disappeared people who are part of the Searching Mothers collective in Coatzacoalcos:
"It's incredible that, even though the adults protect the kids so that they don't know about the disappearance, children know exactly what is happening," she said.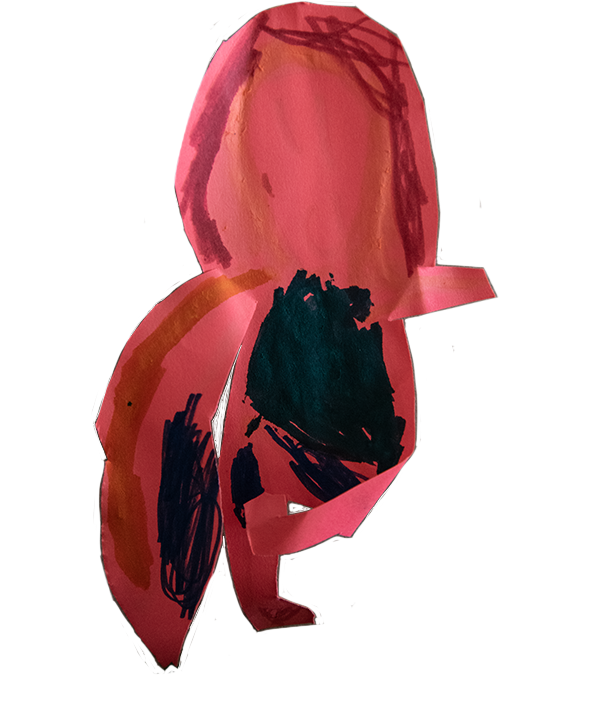 She also explained that, even though they are going through terrible situations, the kids don't give in to the horror. "The children I spoke with in Coatzacoalcos have a strong desire to change reality."
Carlitos, the boy who was disappeared in Veracruz, is the same age as the children Verónica generally works with. The same age, too, as some of the children who she worked with in Coatzacoalcos, helping them to build a story that would allow them to talk about those who are absent.
"Why use this experience, which is so intense, to present to children?" I asked.
"Because art can touch life," she said, in a brief interview in the middle of the pandemic.
For the playwright, theater should be sensitive to these realities. Her proposal is to bring theater to all of those sites where there is so much pain. She works on this, in particular, with the littlest ones, who are the ones that can transform these realities.
She realized it in Coatzacoalcos:
"It was really enlightening to know that, regardless of the horror, children always connect with life," she said. "The existence of these kids must make the absence much less heavy for their families."
II. Theater
When Verónica refers to "theater that touches life," her theater, she shares two anecdotes.
The first took place in Oblatos, Jalisco. The playwright presented "Valentina and the shadow of the devil," a play about a girl who is afraid to go to her room, because when there is no one around, the devil's shadow shows up and makes her play games she doesn't want to play. The shadow forces Valentina not to say anything. It's a terrible secret for the child, who only manages to shed the devil by following a pathway of light that helps her see who is behind the shadow.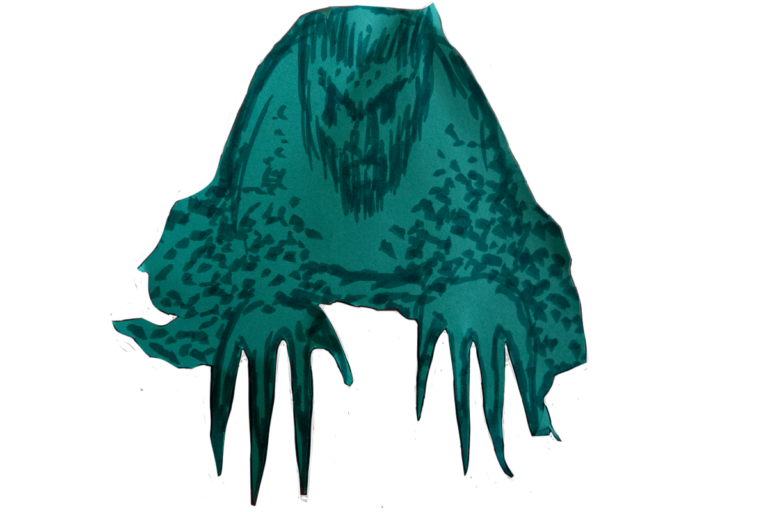 The play, which is about sexual abuse, was presented in a marginalized community in Jalisco. After a few presentations, two little audience members got up the courage to tell their respective mothers: "My father/my stepfather does the same thing to me that the shadow does to Valentina." The mothers denounced their partners, who are now in jail.
The second story took place in the mountains of Sinaloa, an abandoned region that for decades has survived based on the production of drugs, where the population is at the mercy of drug traffickers. There, Verónica presented "The journey of Ulises," a play about a boy who has lost his parents due to violence, and travels as a means to find answers about his own life. The central message of the play is non-violence.
After the presentation, a boy spoke up and suggested: "We could get away from the monster. But we have to do it, all of us together. Otherwise, we won't be able to."
The play, which wasn't subtle, was censored by the local mayor.
Verónica's theater brings people close to difficult stories. She has distanced herself from what she calls "hitman teater," which avoids the numbers of the disappeared, of the people killed. Which transits in comfortable terrain, and sticks to topics that are currently en vogue: bullying and addictions.
It's difficult theater, she admits. But it's also liberating. It isn't complicit.
In a text called "Theater for Children" that she wrote for the magazine of the National Autonomous University of México, Verónica harshly criticized the traditional values normally attributed to theater. She says that entertainment has been used as a tool for avoidance, not an active element that helps to transform things.
Instead, she proposes theater as a confrontation, a call to change.
"Avoidance is a way of escaping reality, through lies," she wrote. "The lie of a theater that promises a secure and happy world to a child… the problem with that promise is that, when the show is over, upon leaving the theater, reality is there waiting, waiting for all of us, adults and children."
That's why she insists that "political theater isn't static theater, it is theater of change and of questions… We can't think of changing the world if we keep educating children to be submissive and conformist, to behave without ever questioning, to follow the same patterns of behaviour that have brought us to where we are as a society. We can't change anything from the continuity of inhuman and totalitarian social systems. Theater cannot be complicit in this."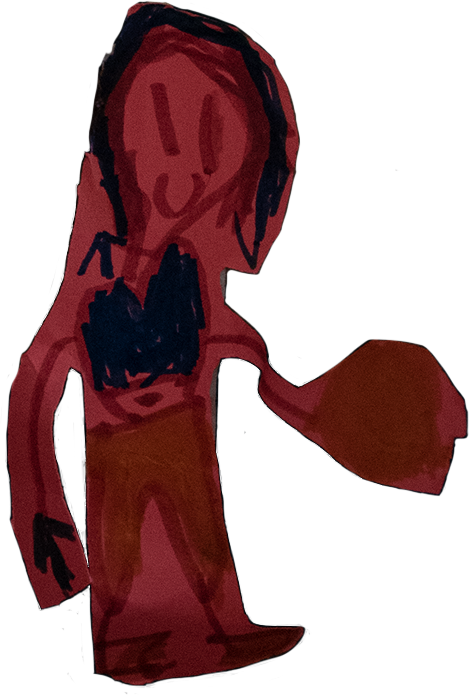 III. Hope
For years, Verónica has dedicated her life to building theater that is sensitive to reality, and determined to change it. For her, art concentrates many things. Especially for healing.
"I'm convinced that art has the capacity to heal, to cure," she said.
She is also sure that struggling against unjust or inhuman social systems is a way of living and a way of doing theater.
This part of the conversation brings her back to a quote from Italian writer Primo Levi, who survived the holocaust: "in the concentration camp, those who obeyed all the time, those who tried to go unnoticed, those who didn't protest or make trouble, those who accepted what took place without blinking… they were the first to die."
That's the vision that Verónica works with:
"I try to write theater that shares with the children what I learned from Primo Levi: falling into line, conforming, obeying without question kills."
After the search for Carlitos, Verónica organized a workshop for the children of the Searching Mothers collective from Coatzacoalcos.
While their family members worked with the other artists in writing, printmaking and music workshops, Verónica, together with Sandra Reyes, an artist and puppet makers, worked on a theater piece that told the story of Maria Azucena, Xuxe, a girl who lives with her grandmother in Veracruz with the children
Xuxe lives with her grandmother because her father went to the United States to work. And because one day, her mother and her auntie went to the river and didn't come back. They say they didn't come back because near the river there are mysterious beings, shadow beings. Xuxe doesn't know if it's true, but she knows that her grandmother, since her mother and her auntie left, has been very sad…"
The girl and her little dog Yolpaquilistli go on an adventure to search for the soul of her grandmother, which is near the river.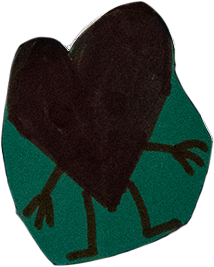 After a few hours of working on the characters and the storyline, the children showed their play to the adults. In one part of the story, there is a question: "If the police and soldiers were once kids, then what happened to them? What was it that made them think they could take another's life?"
There are other highlights: halfway through the story, the little dog stops being called Yopaquilistli and becomes Yolpaquilistla.
Verónica is sure that it is possible to create and use theater to build "happy childhoods, peaceful places."
That's why, when she came back to México City, Verónica started working on the script for a play based on the story of Xuxe.
The result is "Xuxe among the Xantiles," the story of a girl who uses love to survive the absence of her loved ones, and who fights to find them.
"Siempre voy a estar/I will always be
donde tú me busques,/where you look for me,
si tú no me olvidas, / if you don't forget me,
me vas a encontrar. / you will find me.
En tu caminar…yo voy a volar, / When you walk… I will fly,
En tu respirar, voy a suspirar. /When you inhale, I'll exhale.
Todo lo que veas, eso miraré / Everything you see, I will see
Y en todos tus sueños, allí viviré… /I will live in all your dreams…
En el brillo del sol, al envés de una hojita, / In the bright sunlight, on the back of a leaf,
en lo alto del nido de una pajarita…/in the ridge of a bird's nest…
Allí voy a estar, esperándote… / I'll be there, waiting for you
me vas a encontrar, esperándote / you will find me, waiting for you
en la arena del mar, esperándote… / in the sand along the beach, waiting for you…
en el agua, en el aire, esperándote". / in the water, in the air, waiting for you."
Extract of "Xuxe among Xantiles," an original script by Verónica Maldonado (2021).
Epilogue
In the workshop with journalists, Verónica explained that her experiences in Coatzacoalcos marked her deeply, in two ways: "It was a very intense experience, but it was also a very loving experience. It filled me with hope."
Now she thinks that the way women accompany those who are searching for their partners or their sons and the hope with which they carry out the searches are another facet of the horror. A little told aspect, that contains a powerful tool for change.
This article is part of the Narratives and memories of disappearance in México project, coordinated by Técnicas Rudas, in which the Pie de Página team and the Periodistas de Pie Network participate.
José Ignacio de Alba was educated in Catholic schools until he became an atheist. He is a shy wanderer, and never finished his journalism degree. He tends to have more faith in the old narratives than the new, and he likes to write stories.
María Fernanda Ruiz is always an outsider, audiovisual is her jam, and journalism is the path through which she understands and questions the world.
Click here to sign up for Pie de Página's bi-weekly English newsletter.