Originally published January 3, 2021.
Sandra fled El Salvador with her four children in order to save her life. For the last year, she's been  in a camp in Tamaulipas, waiting for an asylum resolution from a court in the United States. But the "refuge" she's been given in Mexico is more like a jail, in which people live in terror. Her testimony flies in the face of the version that migrants taken in under the MPP program are given dignified treatment. The program was suspended but the migrants are still on the Mexican border
Text: Rodrigo Soberanes
Photos: Duilio Rodríguez
Translation: Dawn Marie Paley
MATAMOROS, TAMAULIPAS.- In a working class neighbourhood in El Salvador, families started to disappear at night. They finished their daily activities, went into their homes, turned off the lights, the noise quieted, and there was silence. By dawn, they were gone.
Sandra started to notice the collective disappearances in her neighborhood. "Most people are here as night falls, but not when the sun rises," she thought.
At night she often heard the barking of dogs, a grim signal announcing the entry of young gang members to the neighborhood to carry through a threat.
"That was the hardest part, at night when the dogs would bark. Most people in our community were threatened," said Sandra. We spoke in Matamoros, a Mexican city that borders on Texas, in an encampment that looks like a concentration camp, a direct outcome of the Migration Protection Protocols (MPP), also known as Remain in Mexico. 
That program was suspended by the new US president Joe Biden, but the migrants are still on the Mexican border.
Sandra, who was born in El Salvador, is a quick thinking woman, attentive to everything around her, and an adept problem solver and decision maker.
How did she end up living with her two daughters in a tent just 100 paces from the Rio Grande? For her it is a cruel and absurd situation that has disoriented her, there's lapses when she feels she's even lost her sense of time.
She is waiting for an appointment to appear before a judge, to try and convince them to grant her refugee status. She'll tell them her story in detail.
One morning, in the early hours before dawn, she heard noises in nearby houses, and she looked out the window and began to understand why her neighborhood had gone silent.
"Once I saw a woman near my house at two in the morning who was packing her car full of things so she could leave. She was carrying two boys."
For Sandra, it was easy to connect the dots. "Some people were definitely assassinated, others fled."
They slipped away at night so they wouldn't be found out, that's why the neighborhood fell silent. But the dogs didn't stop barking, and she and her family had already received many warnings.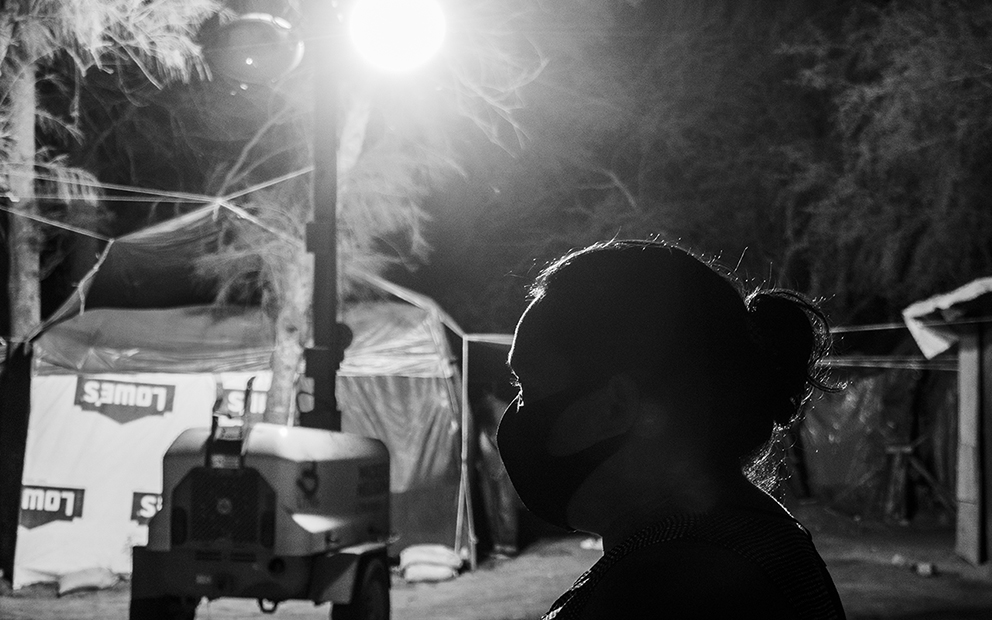 Sandra, originally from El Salvador, in the migrant camp in Matamoros, Tamaulipas, where hundreds of families live. Photo: Duilio Rodríguez
Sandra is a merchant in the informal market. She had two food stands. She also made mops out of strips of XL clothes that arrived from the US for resale in El Salvador. At all of her businesses, people arrived to charge "rent," in other words, extortion.
Rather than pay, she decided to move out of the region with her kids. But she kept falling into the same trap.
"We had already moved between various departments, from one place to another, because they made us pay rent in the two businesses we had. All of the merchants had to pay rent, even those that sold pastries on bicycles and who earn two dollars a day. If they didn't pay, they would be killed. It's always been like that."
Her children were also targeted at school, which apart from being educational centers, were centers for gang recruitment. Sandra, tired of moving her kids from school to school, went to the offices of the Ministry of Education to file a complaint.
What she found there, according to the bureaucrat who assisted her, was a stack of files of similar complaints to hers, piled up nearly to the ceiling.
Thousands of desperate complaints, converted to dead letters.
Her last stop inside her country was in the city of Cuscatlán, because that's where her sister lived and she thought that might offer some protection. But she didn't calculate the geography of the gangs and their invisible borders, and she moved into a neighborhood under control of one group, while her sister lived in "enemy" territory.
"One day she came to see me and they surrounded us, saying that my sister had no business being there there because she belonged to somewhere else."
Sandra would have to travel around the city to see her sister clandestinely, even though she only lived a few blocks away. Her sister would quietly visit her at her market stand, set up behind a hospital.
It was a cycle of extreme effort to make ends meet as a single mother and having to pay "rent." Effort, extortion, flee, effort, extortion, flee.
All of this is why when she noticed that her neighborhood was emptying out, Sandra wasn't prepared to continue looking for safe havens in El Salvador. She accepted that her country isn't made for her to survive.
El Salvador registered a homicide rate of 36 per 100,000 (2,390 confirmed) in 2019, according to National Civil Police data. This assumes that the country has come down on the ranking of the deadlinest countries in the world, but at the same time, it registered an increase in extortion of 17.2 per cent, according to the Public Ministry.
That number includes cases that were officially denounced to police, not those like Sandra's in which instead of going to authorities, she decided to disappear with her children and head north.
First, she sent her two sons at the beginning of October, and they were able to enter the US. She and her two daughters left on August 10, 2019.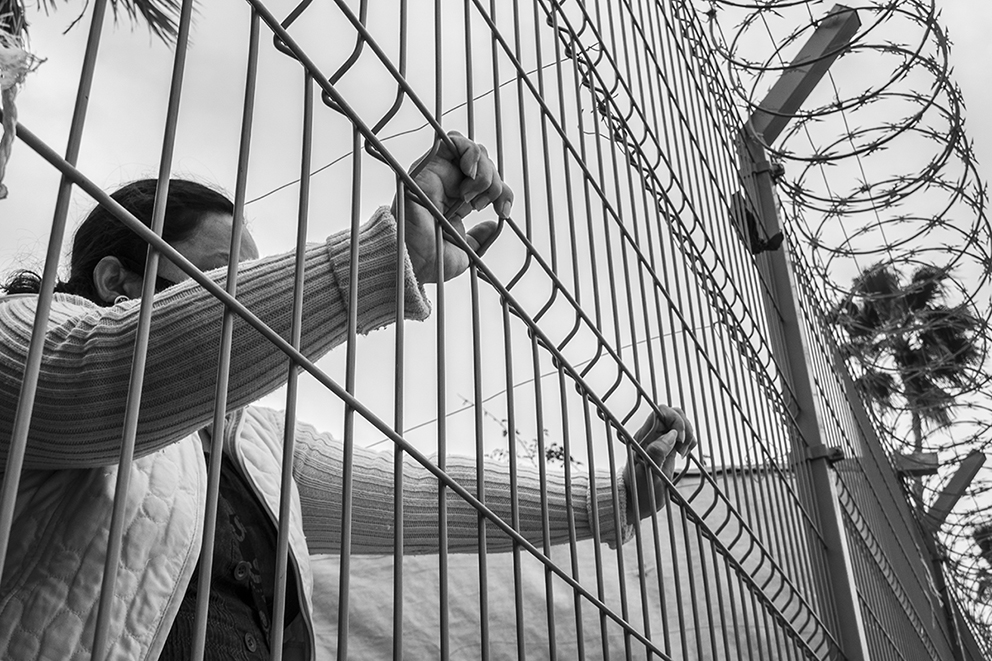 Her house ended up just like her neighbor's. Like most houses in her neighborhood: in silence.
"When I left there were only a few families left in that area. It wasn't easy to make that decision, because you know there are also huge risks involved in leaving. But you say to yourself, 'if I die trying, it was worth it.'"
Fifteen months after her departure, she still thinks the reasons that she left are so severe that it has been worth ending up in the difficult and unimaginable situation in which she and her two daughters find themselves. They are in a camp on Mexico's northern border, in terrible conditions, but they prefer to stay there rather than return.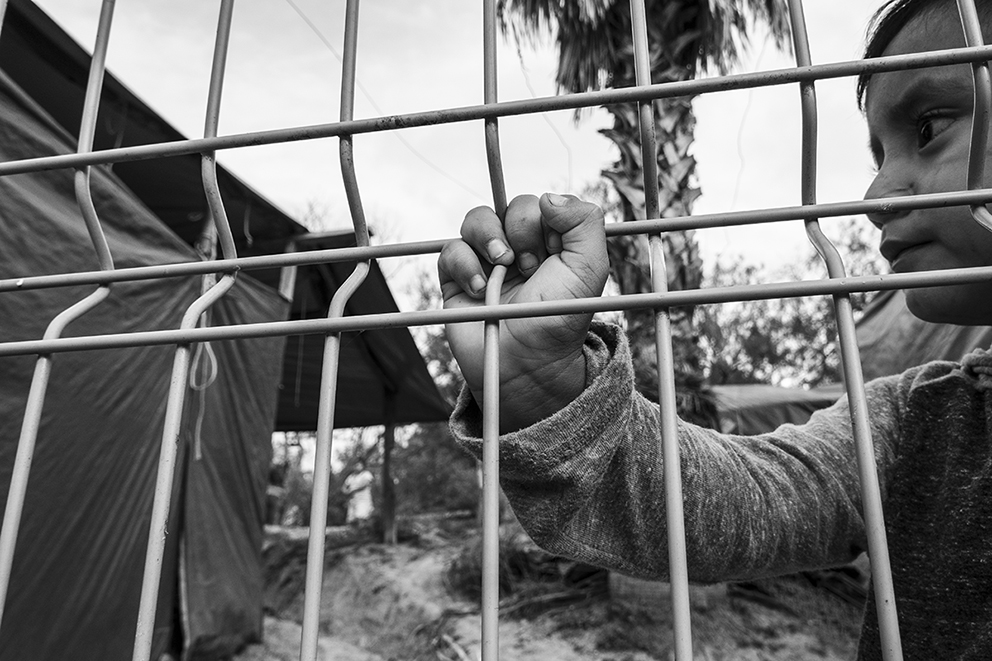 A "refuge" that looks like a jail
Sandra and her daughters arrived at the northern Mexican border in the state of Tamaulipas, cradle of Los Zetas and the Gulf Cartel, where other criminal groups, like the North East Cartel, also operate. It is also the state that is home to the city of San Fernando, where 72 migrants attempting to make it to the US were massacred in April of 2011.
They crossed the border at Reynosa in October, and turned themselves in to the migration authorities at McAllen, Texas. After eight days in detention, they entered the MPP protocol.
"I told them not to send me to El Salvador, that I was terrified. The agent laughed at me and said 'Congratulations, you're going to Mexico'," Sandra said.
They were taken to Brownsville and handed over to Mexico's National Migration Institute in Matamoros, where they had to find a tent to pitch a few steps away from the Rio Grande, together with a group of migrants that reached 3,000 at its peak, according to organizations that provide humanitarian assistance at the camp.
The MPP is a controversial program that forces migrants seeking asylum in the US to wait for their hearings in Mexico. It was created by the administration of Donald Trump and backed by his Mexican counterpart Andrés Manuel López Obrador.
According to Syracuse University's Transactional Records Access Clearinghouse (TRAC), which publishes information on federal justice in the United States, more than 68,000 people have become trapped at different points of Mexico's north border waiting for audiences, where they face two possible situations: permission to enter the United States or deportation.
For more than a year, Sandra has been living with her two daughters in a tent, together with thousands of other migrants who are in the same situation.
Some, just a few, have received permission from a judge to enter the US, but most have tired of living in a park in the midst of the latent dangers along this part of the northern border in Tamaulipas, which is one of the most violent states of Mexico, itself one of the most violent countries in the world.
"There's a lot of people who have gone back, while others have chosen to stay here in Mexico. Each story is different. It would be enough for a book. I don't think anyone would be willing to live like this if they were better off at home," said Mayra, a Cuban doctor who works with the organization Global Response Management (GRM) inside the camp.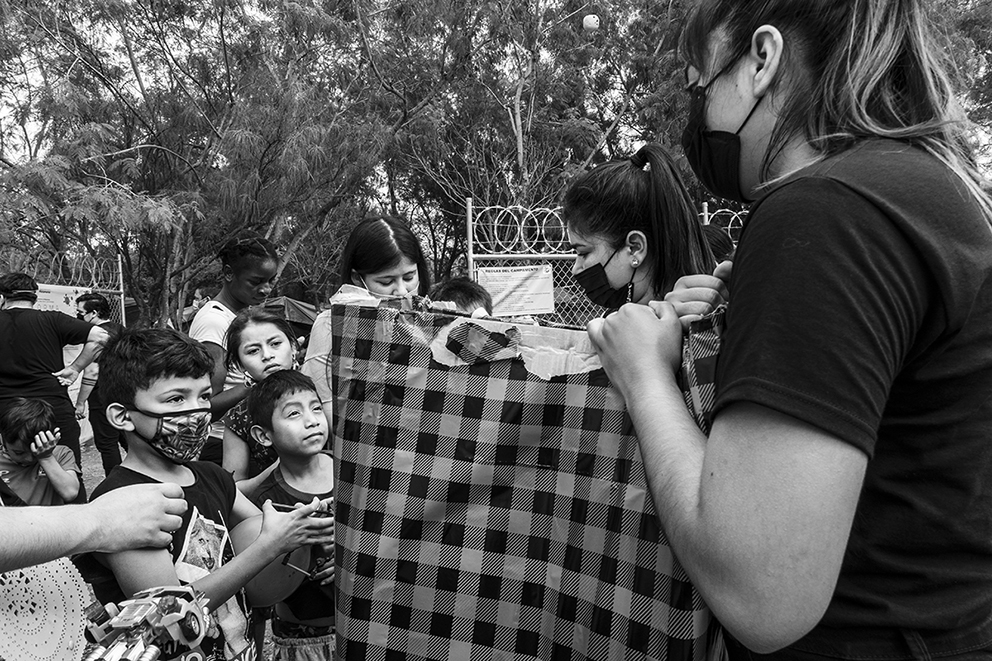 Mayra herself is seeking asylum. She left her country because of political persecution. She's waiting for her next court date, and in the meantime, she's working in the deli of a Matamoros supermarket and now with GRM.
"Some of us are not going to leave here right in the head"
The camp began at the beginning of 2019 with 11 families who set up tents at the foot of the Brownsville & Matamoros International Bridge, and grew until, in January of 2020, Mexico's National Migration Institute confined the growing group of asylum seekers to a grass esplanade and the land beside the river.
With the arrival of Covid-19, a chain link fence with a barbed wire spiral along the top was installed around the periphery of the camp. That's where around 2,000 people have been enclosed, currently there are 700 people from various countries seeking refugee status in the US at the camp, according to Doctors without Borders, which operates a clinic inside.
"It's sad for the children and the pregnant women. There's people who have chronic illnesses, older adults that cannot buy medecine. There's no other option. It's this or go back to where you fled because of danger. Those who are living here in these conditions, are doing so because they can't go back," said Mayra, who is well acquainted with day to day life in the camp.
Sandra was late leaving her tent for our interview. She felt a little off and was inside getting ready. While I waited, those tasked with overseeing the entry to the camp let some people from US based organizations enter with humanitarian aid.
Food, water, clothes, blankets. Religious leaders who lead collective prayers. Toys for the dozens of children who pressed themselves against the chain link fence to receive them.
Sandra came out of her tent and walked the 100 meters from camp to tell me how she got there, and why she's spent a whole year resisting in this place, in these conditions.
In her tent she runs a small "support store" with basic products donated by organizations and universities in the US, and she's also become a counselor, as other migrants often seek her out to share their problems.
They call out to her through the tent window when she's resting, and she goes out to hear stories just like her own. And she –who has helped more people in her tent then the psychologists from the organizations– listens and listens some more. She carries not only her own troubles, but those of others.
"We're all going through a very difficult situation here because of the way we arrived, because of how we were treated, left in the street without a dime. In the street, we had to sleep on the pavement!"
Her religious beliefs helped her reinforce her optimism and those of others, but she knows it's not enough. "I've heard their stories and their pain. Very difficult things. I can't always help. Sometimes I freeze. And anyways, what can I do?"
She "freezes" at one in the afternoon, or eight at night, or in the wee hours of the morning. They come to her tent at all hours. And she tells them "if you can afford it, pay for a good psychologist, because some of us are not going to leave here right in the head. Sometimes you wake up and you can't believe you're in a place like this."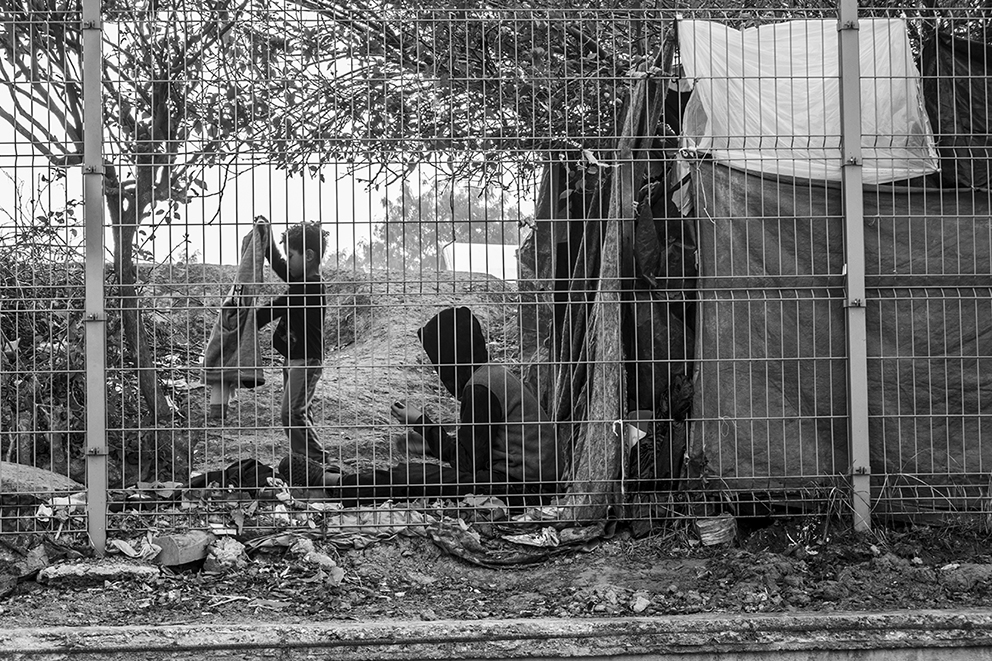 She knows how to resolve the main problems she faces in order to survive her difficult day-to-day. Food, clothes, attempting to stay safe, to avoid exposing herself to the dangers she has identified. She can discuss it calmly.
Over more than a year, Sandra has seen how inside the camp, thousands of people from countless regions and many countries have helped one another to find medicine, to sing and pray together. They give each other blankets, clothes, and food, they share information about the city. They pray for the dead, pray for positive outcomes from the judges, help the pregnant, and fend off sexual aggressions and kidnapping attempts.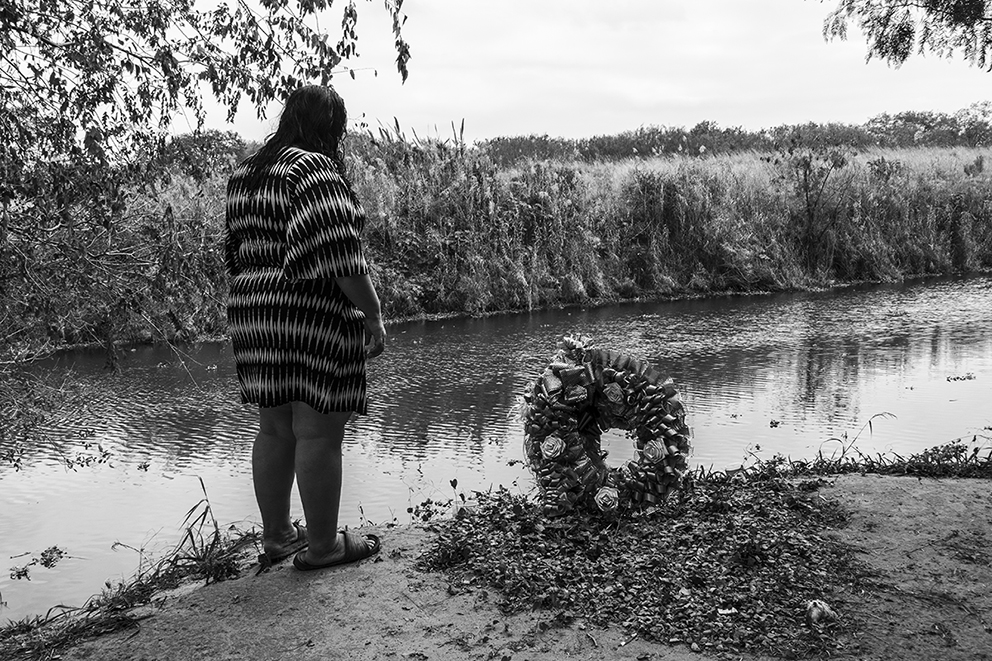 Stories of terror
On August 19th, a young Guatemalan named Rodrigo Castro de la Parra appeared, drowned in the river. They pulled him out 100 meters from the camp, where there is now a wreath of flowers. In the photos of his rescue online, there is a young woman who is obviously deeply distraught. She is the sister of the deceased, who had recently arrived at the camp with a newborn baby.
In the camp there are horror stories, which swirl around things that happen at night. They speak of the terrible events that lead to pregnancies. Nobody believes that what happened to the drowned young man in the river was an accident, but nobody is going to investigate.
"When we leave here, a lot of things are going to come to light. There have been many mistakes made with MPP and this camp has been one of the worst. Our human and civil rights have been violated in every sense. We've lacked food, water and wood for cooking, but there is something that we all know: we're in the eye of the storm, we have to live together with people who do not belong to the camp, we have to live alongside so many things. No one really knows what happens in the camp."
In 2020, Doctors without Border identified 26 obstetrics cases among the population seeking asylum who are waiting for their hearings in the Matamoros camp.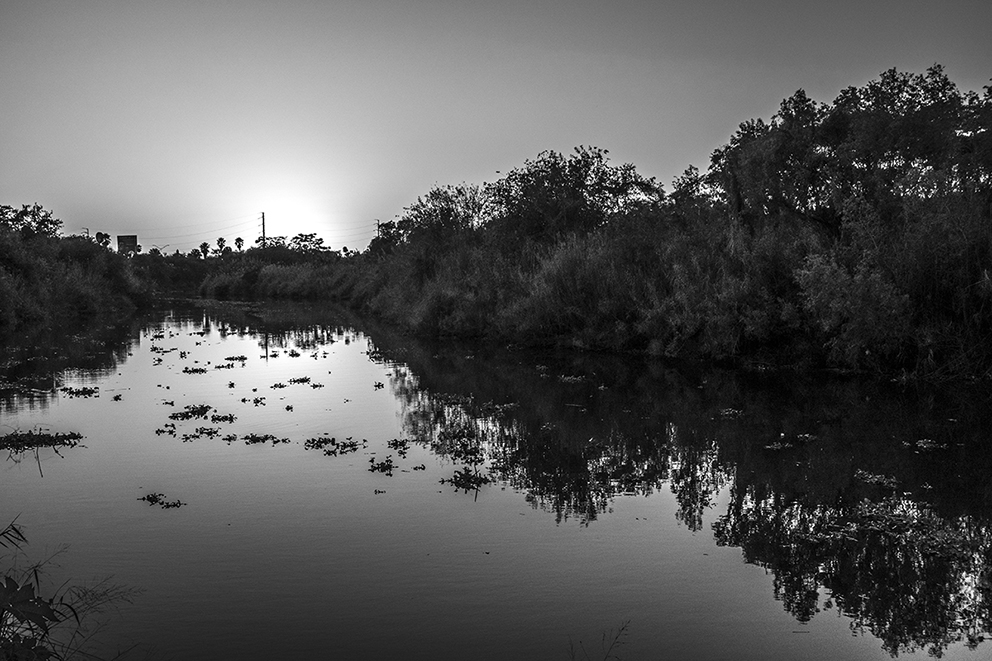 Sandra knows how to get past the obstacles that forced many thousands to turn and head back home. What she still doesn't understand is the "why": why have they arrived at a concentration camp if there is no war?
"We learned to help each other, to accept each other regardless of religion, nationality, all of that. I feel like what happened to us (the violence that forced them to leave their homes) will teach us to be better people"
"We have the capacity to respect each other and we don't do it in our countries, we are always hurting others, so I learned to love my people, whatever their nationality, religion or skin color. None of that matters, and I care for them. What we've been through is really hard."
As we talked, a young man walked by, talking on the phone. He walked with a boy who carried an olive green life jacket, and a little girl. They walked to the opening of the camp on the side of the river, not running but walking as quickly as they could, without turning to look at anyone.
The man on the phone and the kids disappeared into the camp, among the scrub along the Rio Grande. No one can enter those jade colored waters that flow lazily towards the Gulf of Mexico without running the risk of receiving a harsh punishment meted out by men like the one who was chatting on phone and vanished into the camp with two under aged migrants.
The boy and the young girl are "neighbors" in the camp.
Once again, the spectacle of survival takes place in front of Sandra's eyes.
"This nightmare will be over soon," she said. "I hope what happened here never happens again".

Portal periodístico independiente, conformado por una red de periodistas nacionales e internacionales expertos en temas sociales y de derechos humanos.